At Starwood Academy of Frisco, we believe children cannot be taught to love learning — they must discover it on their own.
The magic of imagination, the spark of understanding, the excitement of exploration … these are all wonders that happen differently for each child; deeply personal experiences that must be nurtured so that every child has the opportunity to experience their joys.
This is what happens at Starwood every day!
---
GET TO KNOW US
IN PERSON AND ONLINE
Knowing that each family has varying demands on their time, we have virtual and in-person events available to learn more about Starwood. Although each event is slightly different, our goal for each is the same—that you walk away knowing more about the Starwood difference through an introduction to our program, campus, and community.
Part of the application process includes getting a feel for who we are as a school and a community and attending a campus event. Our on-demand virtual information session, Admission Previews, and other visit opportunities provide you with the chance to imagine life at Starwood for your student and family.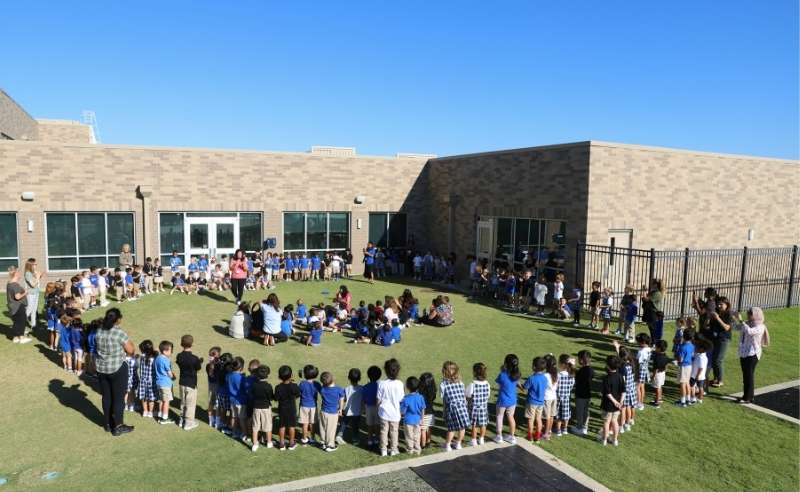 Start Here–Information Session
Our on-demand virtual information session is the easiest way to start exploring our school. Learn why Starwood Academy of Frisco is the best school in Frisco, Texas for engaged, confident and curious children. Watch the comprehensive information session to meet our administrative team, learn about the Starwood difference and receive an overview of each of our Montessori programs.
---
DISCOVER LIFE AT STARWOOD
Discover the school, our history, philosophy and more about life at Starwood Academy of Frisco by viewing quick facts on the school profile page and following us on social media!
---
FREQUENTLY ASKED QUESTIONS
What grades does Starwood Academy of Frisco offer?
Starwood Academy of Frisco is one of Frisco's only high-fidelity Montessori schools to offer families the opportunity to experience a complete Montessori journey from 18 months through the age of 15. Our programs include:
Toddler: 18 months-3 years old
Primary: 3-6 years old (Preschool, Kindergarten)
Lower Elementary: 6-9 years old (1st, 2nd, 3rd grade)
Upper Elementary: 9-12 years old (4th, 5th, 6th grade)
Middle School: 12-15 years old (7th, 8th grade)
Are you Montessori accredited?
We are an
AMS Member School
, including 100% of our administrators being Montessori credentialed at one or more levels.
What is the average class size?
In contrast to traditional education, which emphasizes small classes, Montessori schools value the lessons of community in larger, multi-age classrooms. The role of the teacher in a Montessori classroom is a guide and a mentor rather than an instructor. Larger environments encourage students to rely on themselves and their peers as resources.
Starting in our primary program (ages 3-6) and through elementary/middle school (ages 6-15), classrooms average 20 to 24 students with a 12:1 student-teacher ratio. Note that the same does not apply for toddler classrooms, where we keep the student-teacher ratio at 7:1.
Does the school offer extended day programs?
Yes, we offer extended day programs as an extension of the Starwood experience. The programs are a wonderful way for students to continue building on Montessori practices as well as engage in other activities not always available during the traditional school day. Our Extended Hours program allows students the ability to arrive as early as 7 a.m. and stay as late as 6 p.m.
We also have multiple extracurricular vendors that hold afternoon classes on our campus for your convenience. No more driving to various practices after school! These activities include sports, STEAM, drama, piano, gymnastics, dance and chess.
Do we bring in lunch/snacks?
We have a full-scale commercial kitchen onsite. Our Community Dining program, which is included in school tuition, provides our students with healthy, high-quality food cooked from scratch each day.
Because of the breadth of the program, dietary and health preferences are accommodated, allowing all students to participate. There are procedures in place to alert parents and students of potential allergens in advance.
Daily snacks, like fresh-cut fruit, cheese and crackers and homemade baked goods, are a part of the students' school life. Students do not bring any food from home.
Are students required to wear uniforms?
Yes,
Mills Uniform Company
is the only provider of uniforms for Starwood students. All uniform clothing items are available through their online store. There is a retail location in
Farmers Branch
for in-store shopping or pickup.
How can I learn more?
Inquire to learn more
about why Starwood Academy of Frisco is the best school in Frisco for engaged, confident and curious children.
Where do graduates of Starwood attend high school?
While independent and personally empowered, Starwood students share a strong work ethic, a love of learning, and sincere respect for humanity and the world in which we live. The Starwood Academy of Frisco graduate embraces diversity as a global citizen; thinks critically as a creative, collaborative leader; and lives with integrity as a self-aware, independent human being.
Video - Hear what a recent Middle School graduate has to say about their time at Starwood.
The core character qualities that Montessori helps to develop are also the same ones that have made the transition smooth for our students to attend either public or private school for high school education. Many students continue on to attend Frisco ISD, Legacy Christian Academy, the Alcuin School, or Greenhill.
What is the enrollment time period/deadline?
The first notification of acceptance for the 2024-25 school year occurs in January. We will consider prospective families for any remaining spaces on a rolling basis.
---
CONTACT OUR ADMISSION TEAM
At Starwood, we love nothing more than getting to know prospective families and sharing what makes Starwood a place where bright, curious children become engaged learners, confident individuals and prepared achievers who make education their own. Our admission team is ready to connect in person or by phone to answer your questions about admission, tell you all about our students, guides and programs, and help you think through how to explore a new school for your child.
If you have questions about any of the following information, please contact admissions at admissions@starwoodacademy.com or (972)885-8585.